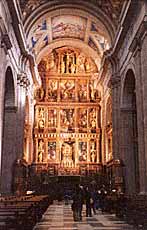 Midway through the program Wednesday is set aside for an excursion to the spectacles and splendors of Spanish history:the solemnity of the Franco regime, the power of the great Hapsburg rulers and the flamboyance of the early Bourbons.
We begin our day with a visit to the VALLEDE LOS CAIDOS(Valley of the Fallen), a monument to those who died in the Spanish Civil War and a remarkable basilica actually built into the side of a mountain in the Guadarrama Range. It is topped by a 400 foot cross which can be seen for miles around. The mass celebrated here by the Benedictines is high drama.Franco, dictator of Spain for 40 years, was buried here in 1975, in the early days of the restoration of the democratic monarchy.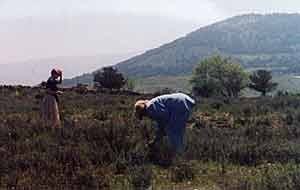 Only a short distance from the Valley of the Fallen is EL ESCORIAL, the glorious Renaissance dream of the first Hapsburg rulers.Charles I and Phillip II. Considered by many to be one of the "Eight Wonders of the Modern World."El Escorial contains a basilica, monastery,two palaces, a library,art and architecture museums, and the royal tombs.This is where the currently reigning Bourbon monarchs King Juan Carlos and Queen Sofia will eventually be buried.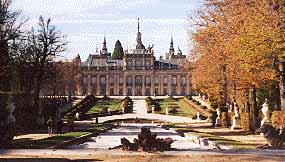 Following a Spanish style picnic at a typical"Merendero" in the town of San Lorenzo de El Escorial, we return to the province of Segovia for a visit to the charming little town of LAGRANJA located a mere 10 kilometers from Segovia. La Granja is home to the palace of the first Bourbon king, Phillip V, which is a homage to Versailles and Phillip's grandfather, Louis XIV of France. The most striking features of the palace are the surrounding formal topiary gardens and fountains. You may recognize La Granja, as it has been used frequently by Hollywood as a movie-set.