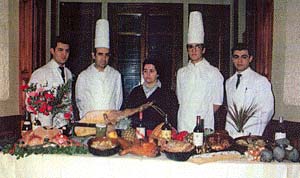 Pepe and Primi Martin have trained not only in Spanish culinary institutes but began their careers as youngsters under the guidance of their own father, himself a disciple of the world-renowned Segovian chef, Candido.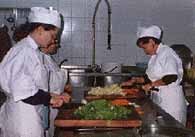 Their approach to culinary instruction is hands-on so all participants are expected to share in the preparation of mid-day meals. These meals are based on the meats, fish, and wild game generic to the region of Castilla. The ingredients range from the famous lamb, nurtured on local rosemary and thyme, to the legumes of LaGranja, the fruits and vegetables still grown in monastery gardens,and the delicate desserts based on centuries-old conve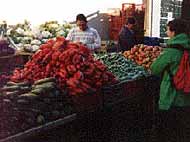 nt recipes.
Thursday is Market Day in Segovia. On that day we are guided by Chef Pepe as we select the produce and spices necessary for the preparation of our mid-day meal.
Cocina Castellana participants spend four sessions,from 10 AM to 4 PM, preparing and enjoying mid-day meals, accompanied by Rioja and Ribera wines, and employing cooking techniques from as long ago as the Middle Ages. During these sessions a late morning snack break or"almuerzo" is offered, with discussions of Spanish wines led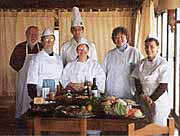 by Primi. Later comes the enjoyment of the mid-day meal, which is followed by the traditional service of coffee and liqueurs with conversation, including "sobremesa" with Chef Pepe.All this activity and great food and drink leads the participants to the oh-so-welcome Mediterranean "siesta" back at the hotel.