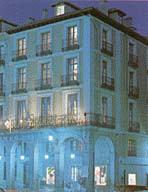 Our base in Segovia is the INFANTA ISABEL,a first class hotel in the main plaza, only a few steps from the Cathedral,Town Hall, Juan Bravo theater, the church where Isabel was crowned Queen of Castile, cafes, restaurants,and the Calle Real lined with shops.
Our accommodations have all the amenities of a modern hotel including heating, air-conditioning, radio, satellite television,mini-bar, safe and telephone in each room.
Yet the hotel is beautifully appointed in the elegant Belle Epoque style. The rooms are spacious and each is uniquely decorated with original artwork and hand-painted details.
Many of the rooms have small balconies and afford delightful views of the Plaza Mayor and the spectacular Gothic Cathedral.